Christmas Tree Care
Christmas trees provide a valuable tradition to the Holiday season. They remind us of
past experiences and symbolize hope for a new year. In North Carolina, Christmas trees
also provide a valuable addition to our economy with over $100 Million dollars in sales. Approximately 30,000 acres of Christmas trees are grown across the state with more than
a dozen varieties being offered (Fir, Spruce, Pine, Arborvitae, etc.). Of course, the most
popular Christmas tree remains our native Fraser Fir, which requires an average
production period of 14 years.
So, what can we do to help protect this valuable holiday symbol and significant
investment?
1. Best Advice – just ADD WATER. A Fraser Fir has the potential to last 4-6 weeks
when displayed in water and 3-4 weeks when displayed dried.
2. To prepare your Christmas tree for display, make a straight fresh cut and remove
approximately one-half inch of material from the base of the tree before placing
the tree in the stand.
3. Use a stand that will hold a gallon of water or more. Check the water level often
and keep the stand full. A tree may take up a gallon of water in the first 24 hours
and a quart a day after that. Preservatives are not needed, just plenty of fresh
water.
4. Place trees away from heat sources, heating vents, fireplaces, wood stoves,
radiators, and sunny windows. These sources can dry out foliage and can create
fire hazards.
In some rare cases, Christmas Trees can bring along unwanted hitchhikers such as Cinara
aphids or spider mites. These insects are rarely a problem, but can sometimes arrive in
large enough numbers to create concern. Giving the tree a good shake outside and
washing the tree with a garden hose, can help to dislodge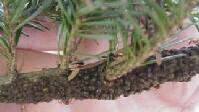 pest and loose needles, and
reduce dust or pollen. If you notice insect pests when the tree is displayed, a vacuum
with only suction is a good way to remove them. If the insect problem is significant, a
return trip for a replacement tree might be needed.
If you would like to learn more about Christmas trees and their production, please visit
the NC State University Christmas Tree Portal
https://www.ces.ncsu.edu/fletcher/programs/xmas/index.html.
Submitted By: Daniel Simpson
Agriculture Extension Agent, Pamlico County
Phone: 252-745-4121
Email: Daniel_simpson@ncsu.edu
Was the information on this page helpful?
This page can also be accessed from:
go.ncsu.edu/readext?327937